Competitive Club Baseball Teams
Baseball teams from 9U to 18U designed to develop young men, great baseball players, and winning approach to the game.
What Sets Gameday Baseball Apart
Gameday offers the most in-depth and developmental baseball training program in Colorado! 12 former collegiate baseball players along with current Professional Minor Leaguers from various MLB Organizations makeup our Gameday Instructional Staff that will have a constant presence during the Gameday led practices during the season and off-season.
Here you'll find the largest amount of total hours of professional instruction of any competing baseball program in the state. Our player to instructor ratio is unmatched!
Every Level Of Play for Your Child
We help players with goals ranging Gameday has strong, competitive teams at every level for your child! Whether you're looking for an introduction to organized sports, or you've been at this for years and are looking for a professional club to excel your child's skills, there is a program to fit your players's needs and development.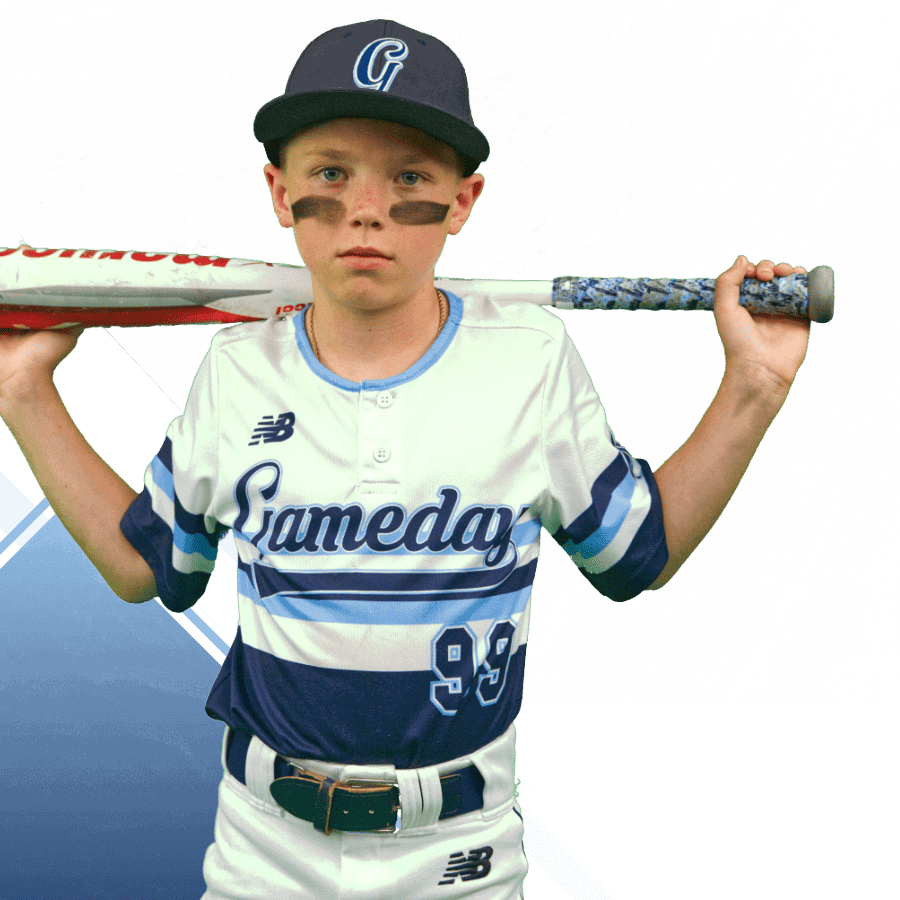 Youth Baseball Teams
9U-14U
Gameday 9U-14U competitive youth baseball teams in Colorado allow your son to build the foundation for a fulfilling career in the game of baseball. Gameday blends faith and excellence into what we do so your player can reach his full potential.
Our Program
We operate Youth Teams from 9-14 years old. We operate High School Summer and Fall Club teams as well as the Gameday Saints our collegiate summer team. We offer camps and clinics with current and former Major League baseball players and play host to over 30,000 fans and players from February-October at our two fully turfed fields. Our goal is to work with our players and build them through our program to have a successful youth, high school and college career. We're too new to have produced a Pro player but we have a few in development! Register for our tryouts below.
Our Instructors
Led by Gameday GM, Mike Koons, all of our instructors love teaching the game and it shows. Mike pitched collegiately for both the University of Arizona as well as San Diego State University where he played for Hall of Famer, Tony Gwynn. Following his collegiate baseball career, Mike played professionally for the Houston Astros organization prior to beginning his career at Gameday Baseball. Our instructional staff is made up of both former collegiate baseball and professional baseball players as well as current Professional Minor League players seasonally. We compliment our baseball instructional staff with both Gameday Strength and Sports Psychology coaches who together have the ability to create knowledgeable AND well-rounded baseball players. An important fact: All of our instructors offer private lessons to players both inside and outside of our program.
Our Facilities
We operate Colorado's premier indoor and outdoor training facility in Colorado. Two lighted and turf baseball fields and a 30,000 square foot sports bubble. We have the ability of operating our practices utilizing both indoor AND outdoor at the same time yielding the most productive use of practice time. Our practices are never snowed or rained out.
Team Practices
January-May (20 weeks) (2) weekly Team Practices for 2 hours each: 80 hours June-July (8 weeks) (2) weekly Team Practices for 1.5 hours each: 24 hours That's a total of 104 Hours of Practice Time…rain or shine!
World Class Instruction
Every year during our Spring Training for our youth teams we
bring in one of America's top baseball instructors to "take-
over" a few of our practices. There is no "ego" within
Gameday so therefore we firmly believe that no one has the
corner on good ideas and that players learn best from hearing
from new instructors. Gameday makes the investment to
expose our youth players to new ideas and techniques that
are taught by the best-of-the-best baseball instructors across
the country.
Exceptional Management
Team Insurance
First right of refusal for Big League Experience Tournament registration.
TeamSnap Membership
Flexible Payment Terms
Our Philosophy
We believe youth baseball players should learn to play all positions on the field. As they develop they will begin to specialize in one to two positions and will be given the tools and the time to hone their craft. We teach our players how to play the game the right way AND how to deal with adversity. We are not a "win at all cost" program. We believe that baseball teaches valuable life lessons.
Our Faith
We are a Christian based baseball program and we do integrate biblical principles into our practices and interactions with our players. We believe more in allowing our actions to speak loader than our words AND to provide our players with positive adult role-models. Rick Eisenberg is our lead Hitting Instructor and our Gameday Chaplain. After a successful college career at Oklahoma University where he played in the College World Series Rick has found his true calling teaching the game of baseball AND teaching the Lord's word. In 2016 we started a program for our teams called "Gameday Cares': All of our teams are offered opportunities to make a difference in our community by giving back. This season our young men participated in outreach programs with local nursing homes, the Ronald McDonald House, Tim Tebow's Night to Shine, The Parker Task Force and many others. "Wins and losses are quickly forgotten. Doing things that really matter last a lifetime':
Our Members
Every player playing on a Gameday team is a member of our Gameday program. We offer more than great baseball facilities and great instruction. We offer a great environment for kids. We offer a community. Baseball is just a relatively small part of our player's lives. We create programs and events outside of the game of baseball for our members. Our sports bubble and baseball fields are safe-harbor for our players and we have a ton of fun with our fields. We play whiffle ball, kick ball and flag football. In the past we have hosted a Movie Night inside the Bubble for players and their families. We regularly have guest speakers come into our program and talk about their lives and their work. These speakers include local youth pastors, local business men and women and former and current professional athletes.

How to get your player started
Register For Tryouts
Sign up for our comprehensive tryouts where we will assess your player on 12 different baseball skills and provide you with a full assessment of their strengths and growth areas.
Join The Right Team
After your player's assessment, they will be paired with a coach and a team where they will be given opportunities to grow, compete, and level up their playing.
Improve Your Game
Our baseball teams provide consistent practice and performance training opportunities at the facilities. Every level team plays in tournaments according to the skill level of that team to create a great experience. 
If you're in the south Denver metro area and are ready for the next level in your son's baseball experience, come check out Gameday Baseball's Parker location with its indoor and outdoor facilities.
If you live on the north end of Denver and are ready for the next level in your son's baseball experience, come check out Gameday Baseball's Arvada location with its indoor hitting and pitching facility.